Drawing on thirty years of policing and detective experience, my stories are set in the real world of police work, 

where life is often hard, sometimes cruel, and people are not always what they seem. The first three books in the DCI Jamie Carver series comprise, The Worshipper Trilogy, (scroll down for more).
LAST GASP; A gripping serial killer thriller wth a stunning twist. Jamie Carver #1
The last time DCI Jamie Carver let a would-be victim act a bait for a serial killer, it ended badly. No they want him to do it again, only this time the 'victim' is a dominatrix!  In Book #1 of The Worshipper Trilogy, Jamie Carver fears the past may be about to repeat itself when he seeks to track down a serial-killer like none he has ever encountered, while trying to stay alive and keeping those closest to him safe.
Available in:- Ebook, Paperback, Audio. BUY NOW 
FINAL BREATH; A murder-conspiracy thriller that will leave you breathless. Jamie Carver #2
A monstrous killer, safely behind bars – But just how safe is, 'safe'?  An archive of debauchery and murder, poised to ruin reputations, careers, lives. A detective running out of time to find what he seeks.   Book #2 of The Worshipper Trilogy, FINAL BREATH is a breathtakingly compelling story of intrigue, conspiracy, and brutal, bloody murder – one in which Jamie Carver finds himself up against people in high places, while forced to renew his acquaintance with the woman he cannot stop from haunting his dreams.
Available in: Ebook, Paperback, Audio   BUY NOW
OUT OF AIR: A race against time serial killer thriller. Jamie Carver #3
One city; Paris.  Two killers; one in hiding, the other stalking the streets. An innocent young couple, bewitched into the deadliest danger. The detective who must find them all, before the worst happens. In the final part of The Worshipper Trilogy, Jamie Carver finds himself torn between the need to stop a killer whose brutality matches anything he has seen so far, and recapturing one whose shadow has hung over him far too long. What he cannot know is that the two are fated to come together, and in way that will bring bloody, violent death. But for whom? The Paris Killer? His Nemesis? Himself? Or all of them?
Available in: Ebook, Paperback, Audio:  BUY NOW 
FAMILY REUNION; An enthralling race against time thriller. Jamie Carver #4
On Europe's distant border, 'The Monster of Yereven' escapes the asylum  and  heads for England's shores to arrange his long-planned, Family Reunion.  It won't be a joyous affair. Whilst in solitary, the depraved mass-murderer swore vengeance against the family that betrayed him to the authorities, before fleeing for a new life, elsewhere.
In this latest Jamie Carver novel, the detective faces a race against time to  save a family who don't even know they need saving. But can he succeed against an adversary as cunning, and warped, as any he has faced before, and who always seems one step ahead?
Available in; Ebook, Paperback, Audio   BUY NOW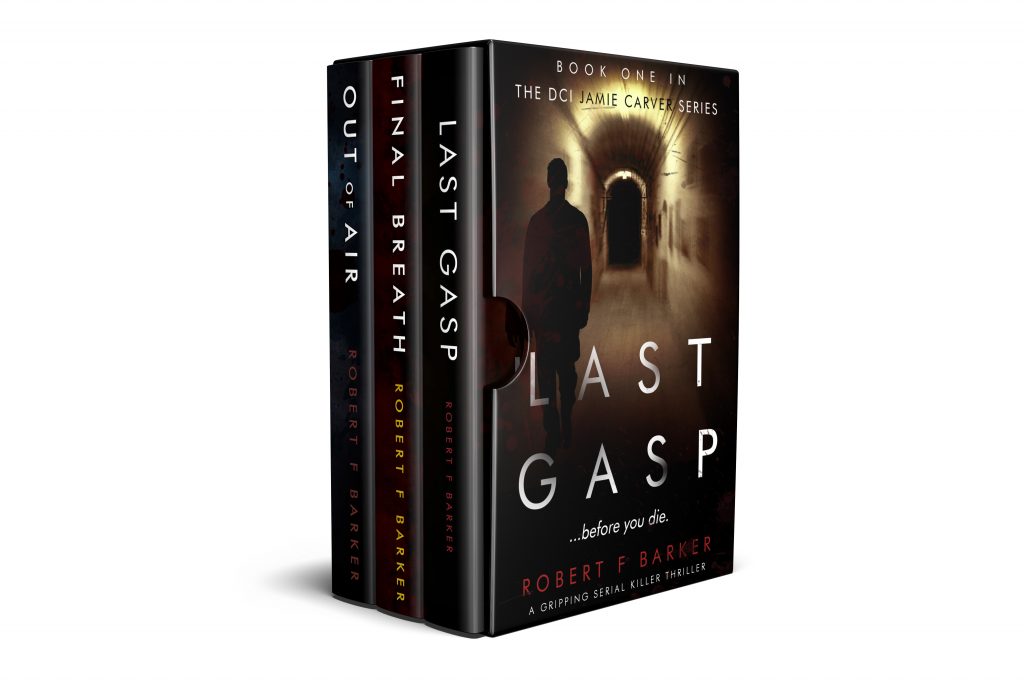 The Worshipper Trilogy Boxed Set; Last Gasp, Final Breath & Out of Air in a single volume
This Boxed Set brings together the three titles in the DCI Jamie Carver Series, that comprise The Worshipper Trilogy, Last Gasp, Final Breath, and Out Of Air, in a single volume  - representing excellent value for money and a good saving on purchasing  the three books separately.
Available in: Ebook.  BUY NOW 
MIDNIGHT'S DOOR; A Gripping Nightclub Thriller
Midnight's. The hottest nightspot in town. Danny Norton runs the door. His job is to keep you safe. But with a serial killer and  a drug dealing Russian gangster targeting the club, he's got his work cut out - And it's all about to blow!  A novel of murder, club door rivalry, gangsters - and love, Midnight's Door has been described as, "A roller coaster read from start to finish."
Read more...
Available in; Ebook, Paperback.   BUY NOW 
DEATH IN MIND: A mind bending psychological thriller with a terrific twist. Jamie Carver #5
Five minutes before she killed herself, Sarah Brooke had never had a suicidal thought in her life.
A woman steps off the platform into the path of the oncoming train. On a lonely road at night, a young man steers his sports car into a tree, at speed. Tragic suicides, clearly. Or are they?  When enquiries show neither victim had reason to kill themselves, DCI Jamie Carver faces a conundrum. Can someone be programmed to take their own life? And if so, can they also be programmed to murder? These are the questions the detective must answer, and quickly, before more die. But how do you do that when the person pulling the strings may also be pulling yours? And how do you stay safe when someone is targeting you for murder, and even they don't know it?
Available in; Ebook. Paperback;  BUY NOW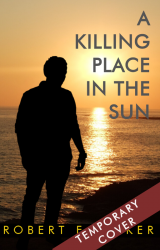 Coming Soon - A KILLING PLACE IN THE SUN; A fast-paced, international, action thriller
His Dream Home In The Sun may be just a house, but to this Englishman it's his castle. And he wants it back!
Before she died, former soldier Peter Murray promised his late wife he would strive to live the life they long dreamed of in the house they built overlooking the Cyprus sea.  Unfortunately, the Russian mobster who's stolen it from under him also likes it - and isn't about to give it up.  And when peaceful negotiation is met with violence and threats, the writing is on the wall. This property dispute won't be resolved through the courts but through blood and bullets - and when one of the parties is six feet under.