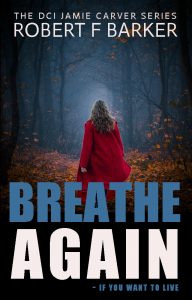 oung boys sometimes find older women 'interesting', They usually grow out of it. But what if the interest is mutual, and she's not what, or who, he thinks she is?
Newly arrived in Brackers Lake, Brandon Sawyer is missing Brooklyn, and hates everything about the sleepy upstate New York town his family have moved to. But when his father volunteers his services to help clear the yard for the nice lady who lives across the street, all thoughts of running off back to Brooklyn soon disappear.
Taken in hand by Kit, the town Sheriff's daughter, Brandon learns that 'sleepy' Brackers Lake isn't so sleepy after all. The brutal but "completely weird" murder of a local councilman points to dark secrets lurking behind the town's pretty lace curtains and picket fences. When Brandon and Kit discover that his new employer may be party to those secrets, it leads them towards danger of a sort they cannot begin to comprehend.
An ocean away, DCI Jamie Carver is staring at a photograph purporting to show that someone he thought was dead, may be alive and living somewhere in New York state. Uncertain if it is genuine or someone's idea of a sick joke, he is rapidly coming to a stark conclusion. There's only one way to find out…
The sixth in the Jamie Carver Series, Breathe Again picks up where Death In Mind left off, with a method of killing that echoes one Carver has seen before – and the possibility that the horror he thought was all in the past, may not be.
"Perfect for fans of the likes of LJ Ross, Peter James, JD Kirk, and J M Dalgleish."
* Praise for Robert F Barker
"A gripping read about an exceptional detective and the complexities in his life" (Last Gasp)
"Fabulous writer and solid knowledge of police procedures. Can't wait for more from this writer"(Last Gasp)
"Well written and fast paced…. a great read for crime-thriller fans" (Final Breath)
"Loved, loved, LOVED this book! Couldn't put it down. Always left on the edge of my seat wanting to know what happened next!"(Last Gasp)
"A very well crafted mystery that keeps you guessing and on the edge of your seat"(Final Breath)
"Jamie Carver is a mix of genius… and emotional wreck!" (Out Of Air)
"So compelling and well written that I can't wait to read the next in the series" (Final Breath)
"Brilliant rounding off of a stunning trilogy" (Out Of Air)
"My preference for fiction is procedural crime thrillers… and I can say that these are the very best example of the genre I have ever come across. More please as soon as you can!"(Out Of Air)