MIDNIGHT'S DOOR  – A Gripping Nightclub Thriller – Featuring DCI Jamie Carver
"Edge of the seat action from start to finish!"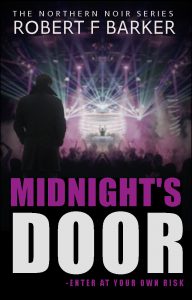 Midnight's. The biggest, hottest nightspot in town. Danny Norton runs the door. Scared of no one, his mission is to keep people safe from those who would harm them. Right now they include the sadistic killer taking clubbers off the streets, as well as the drug-dealing Russian gangster who wants to use the club to grow his operation but needs to first get rid of Danny and replace him with someone more 'amenable'.
With the killer stalking ever closer and the Russian's scheming looking set to bear fruit, Danny has no choice but to fight back using methods he knows could risk all he has built up – his business, his team, his reputation. Worse, it could ruin his chances with Vicki, the club's beautiful VIP hostess. Way out of his league but right now in sore need of someone she can depend on, Danny would love it to be him, if only he was brave enough to suggest it.
A gripping tale of murder, club-door rivalry, deceit – and love, Midnight's Door delves into a world Saturday-night clubbers never get to see, and should never want to see.
5* Praise for Midnight's Door
"Totally absorbing, with a little bit of everything, love life, crime, detection, thriller, deception and gritty truth. Enough to keep absolutely anyone interested."
"What a story ! Fast paced , exciting I just couldn't put it down ."
"Having read The Worshipper Trilogy and Family Reunion I was a bit afraid that Midnight's Door (might not) live up to their storylines. I needn't have worried. This book had all the fast paced action and great characters I expect from Robert F Barker but a different enough angle to keep it fresh and new. A really good thriller."